So if you are like me, you repin and repin some more and really end up with a ton of pins that you do not end up using. Well I thought that I would add all of the projects that I would like to complete in the near future to a list. When I decided to do this I thought, "hey, why not make it a blog post instead? Surely others will be interested, right?"
This is that blog post. Some of the pins would not redirect to the right webpages and even after searching for them I could not find the pins that I was looking for. Therefore I will include what information that I have from these with the pictures that I am posting. When I get one of these pins done I am planning on doing a blog post about it and then showing you all how it worked out for me. This will be a great way to be able to help you to see what I do and will be good accountability for me to get it done in a timely manner. When I am done with this list, if I have new pins that I would like to complete then I am going to be making a blog post about them. I also plan on including a little shopping list with each of the projects so that I can stay organized. If you do any of these projects I would love to hear about how it works for you. So please comment and send me a picture if you can to my
email
so that I can include it in a future blog post.
This one just requires the purchase of some clear plastic make up/travel bags and some label stickers (I still have these from something else.) The pin said that it was from
www.bhg.com
but I could not find it anywhere on the website even when I did a search.
I really want to use this idea from
Darkroom and Dearly
to organize the entire family's drawers. I just can't imagine the reduction in stress that I would feel if I were to have drawers that looked this nice.
I would eventually like to do the entire survival kit that is advertised by
Your Own Home Store
but I think that it is going to be 100% necessary for me to do the family binder as soon as I have the time. It is so handy that she offers everything that you need to get this done and to do it right. In general this blog is awesome and something that I will be stalking in the future. I do not plan on doing this list in order and I think that this is for sure going to be one of the last ones that I do because it is so intense and involved.
There is also this amazing list of 50 ways to get organized with kids that was posted on Attempting Aloha. This list was so much fun but these are the projects that I plan on putting to use in my near future.
She had this great idea for storing Barbies, too bad I don't have a door in the area where the Barbie house is.
She reposted this great tip from
Something to Do
to organize art and craft supplies.
Maybe I will find the time to check out
Ana White Homemaker's
plans that are to recreate this type of bookshelve. Since this one costs $600 this would be the only way that I could afford it.
I acutally have planned to do something similar to this with an old bookshelve and a "Princess" wall hook sign. I can't wait to have the time to get this one done and to show you all just how crafty I can be. This one came from
A Turtle's Life For Me
.
I really love this idea for game organization and although I do not plan on doing it now, if I move into a house that has a separate play room or family room this is something that we are doing for sure. This idea came form
Infarantly Creative
.
I love this idea too and I think that it would be perfect in our entryway. It would look so much better than what we have going on right now.
Grade 2 Happenings
is the one who created this great idea.
I saw this awesome picture on Etsy and just have to make something similar for my home. I am not going to copy it per se but am going to do something that is very very similar. You can purchase one just like this
here
.
I plan on creating a similar wall to
this
with our current pitures. I love this look!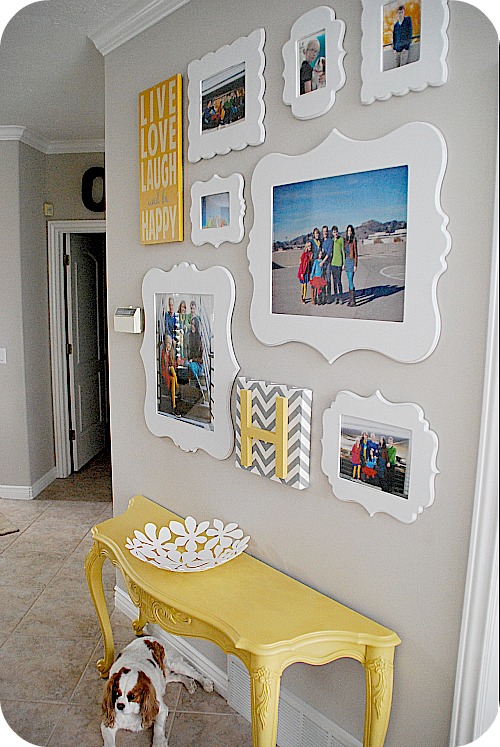 This is another one from
www.bhg.com
. I love this idea though and have seen it done in a variety of different ways. I think that I am going to do it because it would look so nice.
And
It's Rustic Living
used a hanging wine rack to store towels. I love this just as much as the free standing wine rack.
I really love this idea especially since we have so many ticket stubs laying around. This would look so cute in our room. This idea came from a custom frame shop in Chicago called Four Sided.
Apartment Therapy
had this great idea to make your own fabric wall hangings. I have a lot of fabric scraps that will be used for this purpose.
Apprentice Extrovert
had this awesome sitting area and my patio has the perfect corner for it.
Jen at
Simply Living
had this awesome idea and this is something that needs to happen with all of the plastic drawers in our bathroom. This would look so much better.
I want to create some signs that are similar to these but with my kids' names in them and what they need to do. I think that it would be quite different from this idea that was shared by a pinner that did not credit the website.
If I ever have a big enough play room or family room this idea from
Project Nursery
is going to be the way that we store all of our stuff.
I also love this idea from
Clean and Scentsible
. I think that is the one that is going to go into the kids' rooms so that they will be able to display their own artwork as they wish.
This mirror (only with different colored flowers) is going to look so cute in Miss Althea's room and she loves nothing more than looking at herself all dressed up pretty so it is sure to be something that she loves. Thanks for the idea
Ann-Kay Home
.
What a cute wall design that was shared by
Less Than Perfect Life of Bliss
.
These are just a few of the projects that I would like to start with/make my own. I will post lots of information for you as I complete each one of them.